A full stereo PA with extended bass and vertical coverage control
The Bose® F1 Model 812 Flexible Array loudspeaker is the first powered portable loudspeaker that lets you control its vertical coverage pattern. Simply choose among four different settings. Whether you're playing at floor level, on a stage, or facing raked seats or bleachers, you can now adapt your PA to match the room. And once set, the system automatically changes the EQ to maintain optimum tonal balance for each coverage pattern. So, wherever you're playing, you can have the right coverage for the right room. A pair of Model 812 loudspeakers is ideal for DJs and other performers who want to deliver a stereo image or prefer wider coverage. One F1 Subwoofer included for extended bass.
A pair of Model 812 loudspeakers is ideal for DJs who want stereo playback or bands and presenters who want wider PA coverage
Exclusive flex array flexible baffle can be configured into four unique shapes, depending on the best possible coverage pattern for the application
Eight-driver mid/high line array mounted on a custom 100-degree waveguide helps deliver wide, consistent coverage
F1 Subwoofer plus 12-inch high-performance low-frequency driver provide deep, powerful bass
Bi-amplified design features two high-output, Class-D amplifiers to separately power the flex array and 12-inch LF driver
Two input channels with independent volume controls and Line Level/Mic switch on Channel 1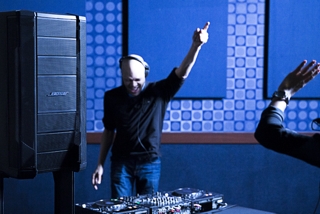 Quality performance
Engineered with a flexible array of eight high-output mid/high drivers, a high-powered 12-inch woofer, a lower crossover point and 1,000-watt amplifier, the loudspeaker delivers high SPL performance while maintaining vocal and midrange clarity that's dramatically better than conventional loudspeakers.
How it works
The eight drivers on the F1 Model 812 Flexible Array loudspeaker are mounted on a specially designed flexible baffle. Simply push or pull the array into position to create four vertical coverage patterns: "Straight," "J," "Reverse J" or "C." Once set, the system automatically changes the EQ to maintain optimum tonal balance for each unique coverage pattern.
For extended bass
The included F1 Subwoofer adds deeper, more commanding bass to your performance. It packs all the power of a larger bass box into a more compact design that's easier to carry and fits in a car. A mounting stand for the loudspeaker is integrated right into the body of the subwoofer, so you always know where it is, making setup fast and easy. The stand even includes cable channels to neatly hide the wires.
The loudspeaker and subwoofer each have 1,000 watts of power, so you can fill nearly any venue with sound. Additional features include a polarity switch (NORM and REV) for easy correction of low-frequency overlap between the main loudspeaker and subwoofer, and line output EQ (high-pass filter or full-range settings) for easy crossover selection when used with a main loudspeaker.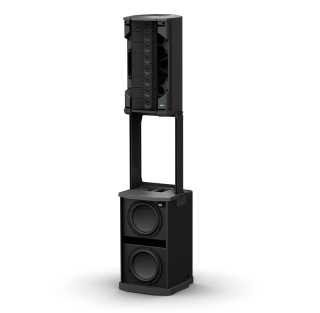 Easy travel
And now getting there is easier, too. The loudspeaker and subwoofer feature strategically placed handles for easy transportation and highly durable, lightweight composite enclosures to ensure easy transport.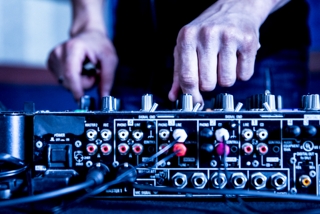 Applications
Live music performances
Bands of all styles
Solo musicians
Mobile DJs
Houses of worship
Schools and universities
Resorts and hospitality venues
Business presentations
Dimensions/weight
F1 Model 812 loudspeaker:

26.1″ H x 13.1″ W x 14.6″ D (44.5 lbs)

F1 Subwoofer:

27″ H x 16.1″ W x 17.6″ D (57 lbs)

F1 system stack:

73.5″ H x 16.1″ W x 17.6″ D (101.5 lbs)
In the box
F1 Model 812 loudspeaker
2 F1 Model 812 loudspeakers
2 IEC line cords
1 Owner's Guide
F1 Subwoofer
1 F1 Subwoofer
1 F1 Subwoofer stand
1 IEC line cord
1 Owner's Guide
Additional details
F1 Model 812 enclosure
F1 Model 812: High impact composite materials
Frequency response (-3 dB): 52 Hz – 16 kHz
Frequency range (-10 dB): 43 Hz – 20 kHz
Nominal dispersion: C: 100° H x 40° V
Maximum SPL @ 1 m: 132 dB SPL (peak)
Rated power: 1,000 W
F1 Subwoofer enclosure
F1 Subwoofer: Wood cabinet with high impact composite end caps
Frequency response (-3 dB): 40 Hz – 100 Hz
Frequency range (-10 dB): 34 Hz – 112 Hz
Maximum SPL @ 1 m: 130 dB SPL (peak 6 dB CF)
Rated power: 1,000 W